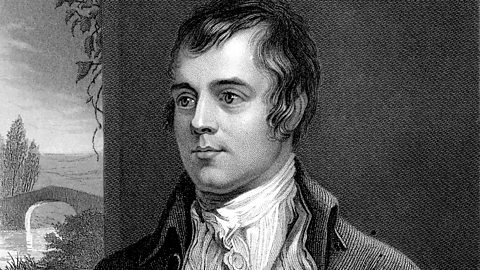 Do you love plaid? Are you looking for a reason to dust off your kilt? Make plans to attend the University Club Foundation's Fifth Annual Robert Burns Supper on Friday, January 22, 2016 from 6:00 – 9:00 p.m., at the National Register-listed University Club of Albany, 141 Washington Avenue at Dove Street.
Join old friends and new for tartans and bagpipes, songs and stories, neeps & tatties and haggis, poetry, whisky, the Cup of Kindness, and lots and lots of laughter. The evening begins at 6 p.m. with cocktails in the living room followed by a bagpipe procession at 7 p.m. into the candlelit main dining room for a traditional Scottish buffet. American options will be available as well.
Born on January 25, 1759 in Alloway, Robert Burns is Scotland's most famous poet. He died from complications of rheumatic heart disease at just 37 years of age. In that short lifetime, however, he became Scotland's most famous poet and lyricist, penning such works as Tam O' Shanter, Auld Lang Syne, and To a Mouse to name just a few. His works have had a profound effect on successive generations and, because his legacy is so well-loved, his birthday is celebrated each year around the world.
According to RobertBurns.org, Burns Suppers range from the formal gatherings to "uproariously informal rave-ups of drunkards and louts." Most adhere to some sort of time-honored tradition including a "Scottish meal, the drinking of Scotch whisky and the recitation of works by, about, and in the spirit of the Bard."
The University Club Foundation's annual black tie optional affair falls somewhere in between! Dress tends to be semi-formal, with most ladies in evening attire and gentlemen in suits, tuxedos or traditional kilts; but the atmosphere is anything but stuffy. This year's event will once again be hosted by Club board member Meredith Helgerson who has presided over several Burns Suppers inspired by her honeymoon travels in Scotland.
The guest speakers at the 2016 Burns Supper will be Robert Mulligan and Randy Patten. They will present an illustrated lecture on David Lithgow, a prolific local muralist and sculptor.Lithgow immigrated to the United States from Glasgow as a young man, finally settling in the Capitol region in 1890, and lived here until his death in 1958. Lithgow's sculptures can be found throughout Albany, including the Spanish-American War Monument at Townsend Park and the St. Andrew's Monument at Albany Rural Cemetery. His most well-known murals are probably the monumental 60x20 foot paintings behind the Iroquois Indian "Life Groups" (dioramas) at the New York State Museum.
Lithgow became a member of the St. Andrew's Society of Albany in 1916. He redesigned the first two stories of their clubhouse at 150 Washington Avenue in 1928-29, creating the feeling of an Edinburgh gentlemen's club, complete with oak paneling and tartans.
Tickets are $75 each, seating is limited and reservations are required by Tuesday, January 19. This event is presented by the University Club of Albany Foundation, Inc. and one need not be a member of the University Club to attend. Call the University Club at 518-463-1151 or
reserve your seat online
with a credit card or PayPal.
The University Club of Albany Foundation was formed to recognize and maintain the unique historic and architectural significance of the University Club building and property, its neighborhood and the city of Albany, where it has been located since its inception in 1901. Support for educational programming presented by the University Club Foundation is provided by AT&T.