David Hinchen to Exhibit Work from January – April 2016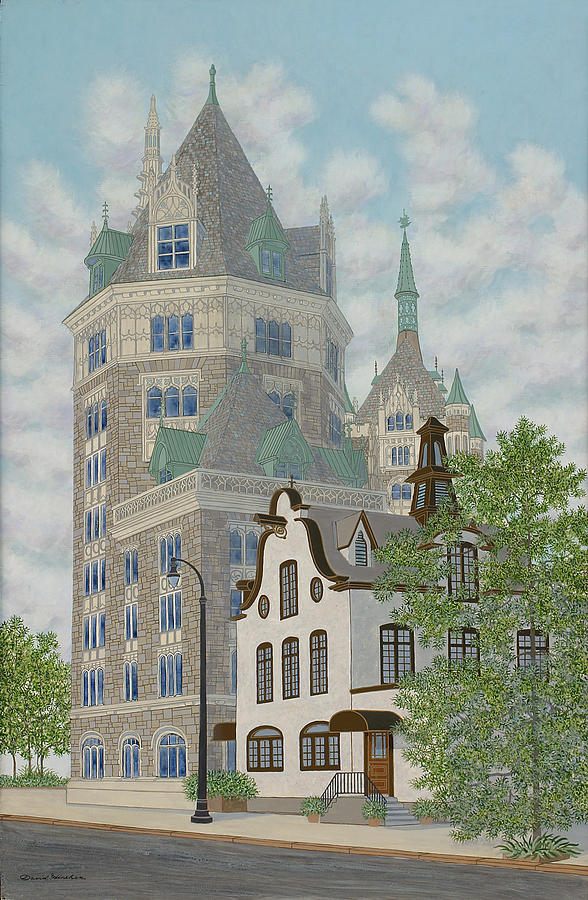 In addition to paintings by Jonathan Bradley Morse and Walter Launt Palmer and sculpture by Terri Boor, the Living Room, Lobby and Dining Room of the University Club of Albany have long featured works from a variety of local artists.
From January 22 through early April, the University Club will present a solo exhibition of the works of David Hinchen, who will serve as the Club's fifth Artist in Residence.
A Meet the Artist Reception will be held on 1st Friday, February 5 from 6:00 p.m. until 8:00 p.m. at the National Register-listed University Club at 141 Washington Avenue at Dove Street. The reception is free and open to the public as part of the University Club's participation in 1st Friday, the arts walk that showcases the lively art scene in downtown Albany.
Scheduled to run through Friday, April 8, the exhibition will be on view during public and special events at the Club, and by appointment with the artist, who will receive an honorary membership in the University Club for the duration of the show. Previous Artists in Residence were Ken Ragsdale, Channing Lefebvre, SUNY Chancellor Nancy Zimpher and Joleen Button. Their work spanned many artistic disciplines, including drawing, painting, sculpture, paper-craft, and photographs.
Hinchen is a full-time artist who has spent the last twenty-five years creating original commissions for clients. The majority of his drawings and paintings are of historic homes and landmark buildings in Metro New York, Greater Boston and New England. Besides drawing and painting, photography has always been an integral part of his creative process. He especially enjoys photographing historic architectural elements - signs, statues, facades, subway mosaics and stained glass windows. The University Club exhibit will include photographs along with illustrations and paintings.
"My drawings, paintings and photographs celebrate the visually absorbing shapes, colors, textures and eccentric details of the urban landscape," said Hinchen. "For me, buildings are the significant carriers of cultural memory. Surviving the builders and residents, they are reminders of remote lives and times. Over the years, a city takes on an almost geological aspect, with successive generations leaving behind a layering of architectural styles. The enduring physical makeup of a city directly influences its culture as well as its ability to survive as a place people care about."
Inspired by the lonely landscapes of Edward Hopper and brilliant color staging of Maxfield Parrish, David Hinchen is essentially a self-taught artist. His interests in aesthetics, urban design, architecture and history have always influenced his work. He received a B.A. in philosophy and political science from Drew University in Madison, New Jersey and an M.A. in political philosophy from Columbia University in New York City.
Hinchen's work has been featured in regional exhibitions at: The Albany Institute of History and Art; The New York State Museum; The Provincetown Art Association; The Stockade Art Show in Schenectady, N.Y.; The Gallery On The Green in Canton, Ct. and Historic Albany Foundation's Vacancy and Built Shows 2000-2015 (Best in Show Award, 2010). His home and studio (a 1901 Colonial Revival) is located in Albany. For more information, visit his website at
www.davidhinchen.com
.
The Artist in Residence program furthers the University Club and Foundation's commitment to promote the use of the historic Clubhouse as a venue for performing and visual arts as well as cultural events. It builds on the success of the October, 2011 Athletic Annex Exhibition curated by local artist Chip Fasciana. For 9 days, the University Club's former fitness annex was transformed into a "pop up art gallery" with an exhibition featuring some 20 local and regional artists. The Athletic Annex Exhibition was part of MoHu – the Mohawk Hudson Art Festival featuring theatre, dance, music, visual and random acts of art throughout the region.
This event is presented by the University Club of Albany Foundation, Inc., and one need not be a member of the University Club to attend. The 501c3 Foundation which was formed in 2009 to recognize and maintain the unique historic and architectural significance of the University Club building and property, its neighborhood and the city of Albany, where it has been located since its inception in 1901. Support for educational programming presented by the University Club Foundation is provided by AT&T. For more information contact the University Club at 518-463-1151 or online at
www.universityclubalbany.com
. RSVP at
http://conta.cc/1Pj0SGs
.